Softec DSP CV
DUPLEX softening plants with CLACK valves
The hardness of water has become a challenge in industry and at home alike. Therefore, small softening plants have been f inding their ways into private households. Our SOFTEC DSP CV series provides a solution for water sof tening in commercial and industr ial plants with water volumes up to 20 m³/h. Equipped with CLACK's central control valves, our plants are easy to install, program, and operate.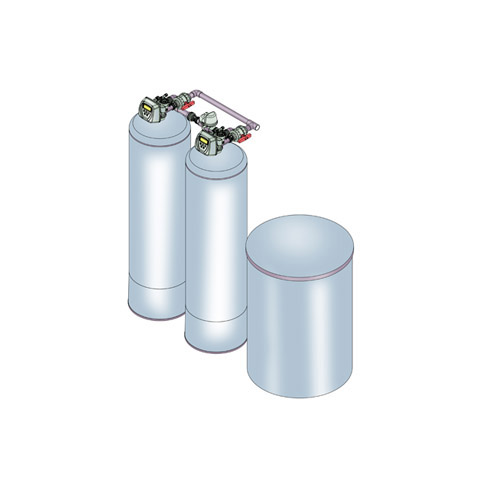 Properties
dual sof tening plant
continuously soft water
easy installation and commissioning
9 freely programmable cycles
automatic regeneration
Components
GFRP filter tanks
cationic resin
central control valves
three-way switching valve
brine tank
brine valve
piping plus all fittings and measuring instruments necessary for the
installation of the plant and monitoring the hydraulic parameters
Operating Conditions
NaHereinaf ter, the requirements for the inlet water:
| | |
| --- | --- |
| Inlet pressure | 2 – 6 bar |
| Temperature range | 5 - 40° C |
| Free chlorine (Cl2) | < 0.1 mg/l |
| Iron (Fe) | < 0.1 mg/l |
| Manganese (Mn) | < 0.1 mg/l |
| Inlet water | free of oils, oxidants, colloids, or particles |
Note
It is recommended to install a f ilter, cartridge or self-cleaning, in front of the softening plant with a fineness of 100 μm. For regeneration, it is recommended to use technically pure salt in the form of a tablet, granulate, or liquid brine.