Demin
Ion Exchanger Demineralisation
The DEMIN series is our go-to standard for the full desalination of water. The plants serve all procedures in which low-salt water is required, e.g. water treatment for boilers. With their compact architecture, small footprints and low flow rates, our DEMIN plants are the perfect solution for water treatment in conf ined spaces. By request, we gladly of fer DEMIN plants with higher capacities.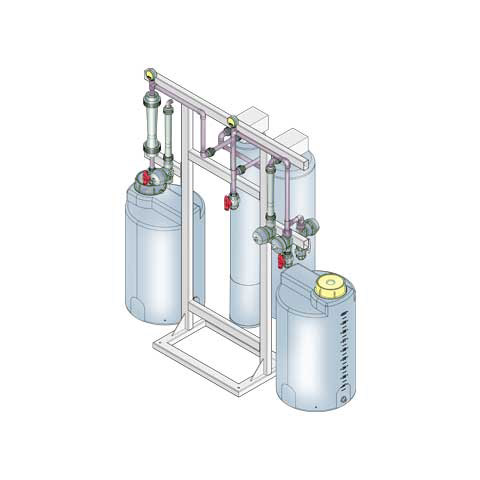 Product Leaflet
For further information and specification, please download our compact fact sheet.
Inatec_Demin_07-2019
Properties
direct current regeneration
total salinity (TDS) up to 500 mg/l
quick assembly and short commissioning times
small footprint
easy operation and maintenance
reliable operation with product conductivity monitoring
automatic regeneration
valve design enables optimum operation plus good backwash
and regeneration flow rates
Components
GFRP pressure tank
cationic and anionic resins
central control valves
microprocessor control
dosing and collecting vessels
regeneration fittings
conductivity monitoring
all fittings and measuring instruments necessary for the installation
of the plant and monitoring the hydraulic parameters
Operating Conditions
Hereinaf ter, the requirements for the inlet water:
| | |
| --- | --- |
| Inlet pressure | 2 – 6 bar |
| Temperature range | 5 - 40° C |
| Feed line TDS | max. 500 mg/l |
| Inlet water | free of oils, oxidants, colloids, or particles |
Note
It is recommended to use a f iltration device to remove
colloids and particles.